Tactical trading flows seen as EUR/USD drops to one-week low

GBP falls from 1.3300 perch as wage data muddy BOE outlook
The dollar gained for a third day, its longest winning streak in more than a month, as hopes for U.S. tax reform revived.
 The Bloomberg dollar index rose 0.4 percent after Republican leaders said a tax plan from the Trump administration is coming soon. The dollar erased a drop of as much as 0.2 percent and gained against all G-10 peers, while Treasury yields advanced for a fourth day, as House Speaker Paul Ryan said the plan is to have a new tax system functioning next year. Traders await the Bank of England decision and U.S. consumer-price index data due Thursday.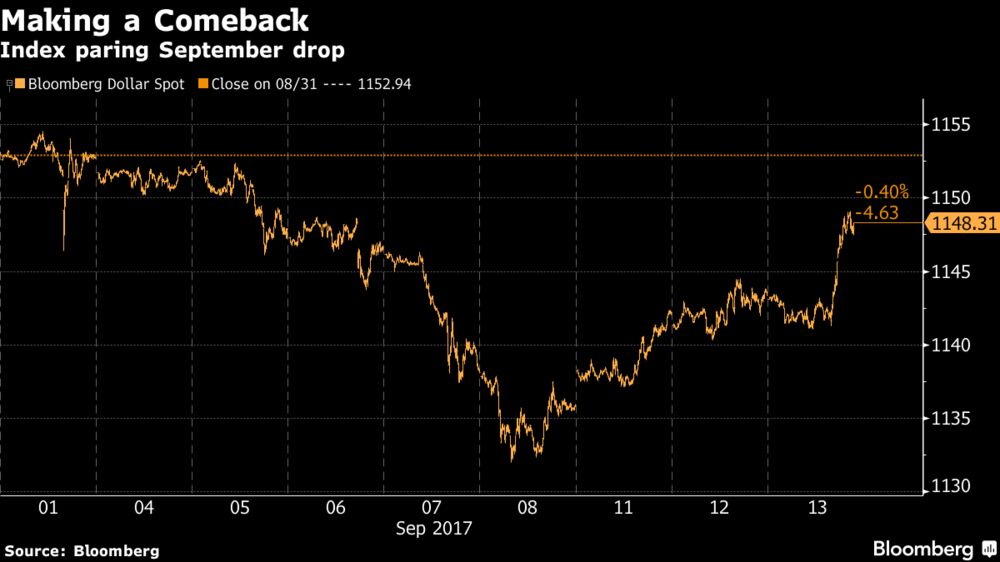 Senator Joe Manchin, one of three Democrats from the chamber to attend a Tuesday dinner with President Trump, described talks on tax reform as productive. While the remarks from Manchin were a long way from signaling bipartisan agreement, they were a little "salt in the wound" to USD shorts, said one trader in Toronto, who asked not to be identified because he's not authorized to speak publicly
House Ways and Means Chairman Kevin Brady said tax reform details will be released later this month. Trump is said to have invited Democratic leaders Nancy Pelosi and Chuck Schumer to dinner on Wednesday
Volumes were subdued and mostly confined to "tactical" rather than "thematic" moves, indicating there's not yet a clear shift in sentiment, another trader said. The pound fell after the U.K. August employment rate showed wages rose less than expected, knocking the currency off a new perch above 1.3300 against the greenback. The U.K. MPC will be watched to see whether it repeats its prior 7-2 vote for unchanged rates or shifts to a more hawkish 6-3 tally that could signal the time for a rate hike is nearing, traders say
In the U.S., tame inflation has been the bugbear of Fed policy makers. Traders will eye core and headline August CPI data for signs that price pressures are turning higher after recent misses. The data will come less than a week before the FOMC decides on monetary policy. August PPI data announced Wednesday showed a 2.4% gain y/y vs est. 2.5%
EUR/USD trading near a fresh low at 1.1880, reversing gains from earlier in the session after stop-loss sell orders were tripped below 1.1940. Earlier, EUR stalled at 1.1995 as offers ahead of 1.2000 came into view. Some of that supply may be linked to large 1.2000 option expiries that roll off in coming days.
EUR filled bids ahead of 1.1900 where other expiries may also come into play later this week. Additional stop-loss sell orders are in place under 1.1880, one trader said. ECB's Praet warned that it's too soon to declare victory in the fight against inflation, saying that despite "a solid, broad-based and resilient" recovery, "a seeming disconnect between growth and inflation remains"
USD/JPY trading ~110.60 after rising to its highest in four weeks at 110.69, bolstered by the rally in Treasury yields. As with EUR, option expiries may play a hand in trading over coming days, with a large 110.00 expiry potentially to anchor the pair until Friday
GBP/USD trading ~1.3200 vs session low of 1.3185; pound earlier rose to a one-year high at 1.3329 ahead of the U.K. employment report, which showed a weaker-than-expected rise in wages despite unemployment dropping to a 42-year low